Amazon now shipping wine to – and from – Texas
Posted on April 12, 2013 by Becka in Wine.

I got an email yesterday announcing that Amazon is now shipping wines to and from Texas. The complications in shipping wine in and out of state have confused many folks over the years, but the bottom line is that through an agreement with the TABC, Amazon is now legally allowed to ship wine from Texas and out-of-state wineries right to your door.
Having wine shipped directly to your home is great if you're always busy – it's one less errand to run. Now choosing which wines to order is another matter altogether. Hopefully I can help you out with a few recommendations!
One of my favorite Texas labels is Blue Ostrich from Saint Jo, TX.
I visited their winery the other day – it's about 90 minutes northwest of Dallas, past Gainesville. Their winery is located on a working ostrich and cattle ranch, and Patrick and Julie are friendly, personable owners who won a handful of awards at this year's Rodeo Uncorked competition. My favorite one was a wonderfully balanced syrah that goes down smooth and would pair nicely with BBQ, pizza, or a delicious sheep's milk or comte cheese.
You can order 5 of their wines from Amazon right now. Sadly, they don't have the Syrah up yet, so you might have to make a trip out to Saint Jo to get your hands on that prize.
While I was in the neighborhood, I also went over to the other side of the valley to check out Arché.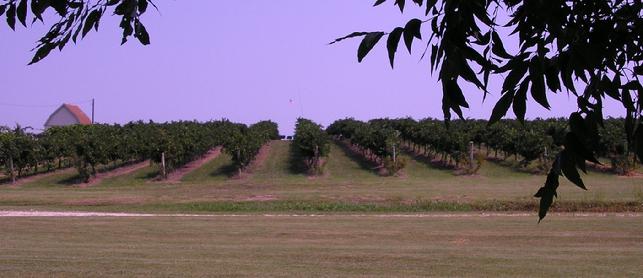 Young winemaker Grayson Davies was Texas Tech's first graduate from their Viticulture and Enology Program. The 25-year-old was on site to share his work with me, and boy, was it good. He's already got numerous medals under his belt with many more to come, based on the barrel samples I tasted. Davies is making some really great varietal and blended wines, 3 of which are currently offered on Amazon.
Since I previously whetted your appetite for a full-bodied, peppery syrah, Arché's version would be an excellent choice as well. If you're strictly a white wine drinker, they've also got a beautiful French-style Rousanne with stone fruit aromas and a hint of smoke. This dry, full-bodied white is so versatile, you could pair it with a bright salad or a hearty red meat. Keep your eyes open for the 2011 and 2012 vintages too, as this wine gets better as Davies plays around with it more.
Another great pick for white lovers is the Viognier from McPherson Cellars out in the High Plains. The high elevation in the aptly named growing region allows for optimal grape growing in Texas. Warm days allow the grapes to mature and cool nights help the grapes retain their acidity. This particular Viognier shows a hint of acidity behind the peach and apricot flavors that shine through. This is a perfect pick to pair with light fish or poultry dishes and will be extremely enjoyable as the weather warms in North Texas.
All of these wineries are well worth the visit, which would make for a pretty perfect weekend adventure. However, if you find your calendar to be full, the good news is that you can now get these great Texas wines on Amazon.