Quinoa with Toasted Pine Nuts, Feta and Basil
Posted on February 4, 2013 by Becka in Recipes.

Quinoa is one of my favorite foods. It's healthy, versatile, and simple to make. This grain-like plant's edible seeds make a great side dish or a light main dish and are loved by carnivores and vegetarians alike for their high protein content. Similarly to rice, one part quinoa is cooked in two parts liquid, softening as it absorbs the cooking liquid. I prefer to use unsalted chicken or vegetable stock for the flavor boost it provides, but water will do the trick as well. Quinoa itself has a nice nutty, earthy flavor but much like rice, can be enhanced by whatever flavor profile you want to give it. I went with a light Mediterranean profile by combining pine nuts, feta cheese, and basil, finishing it off with a touch of lemon juice to brighten the dish. This is great served warm off the stove top or chilled and served as a refreshing summer salad.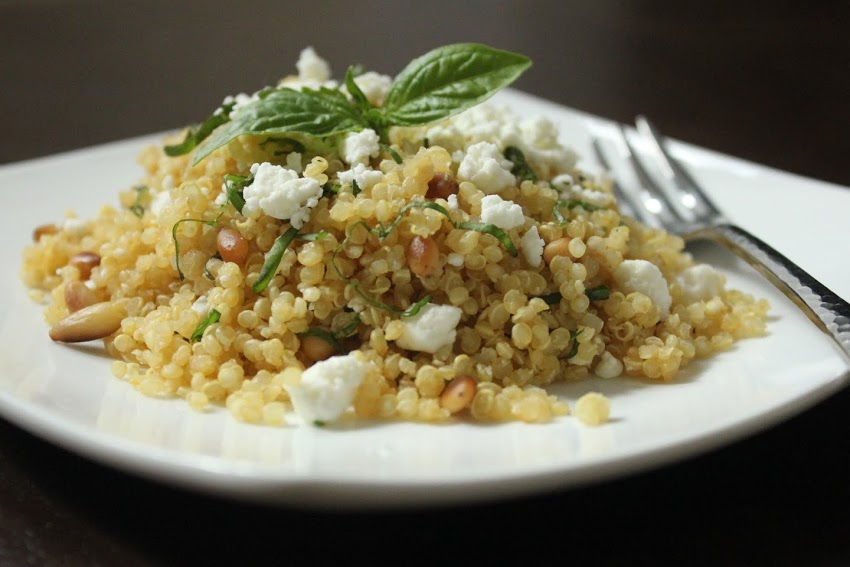 Quinoa with Toasted Pine Nuts, Feta, and Basil

Serves 4
1 Tbsp butter
1 cup quinoa
2 cups unsalted chicken stock (or vegetable stock or water)
pinch Kosher salt
1/2 lemon, juiced
3 Tbsp pine nuts
2 oz reduced-fat feta cheese, crumbled
6 basil leaves, chiffonade
Rinse the quinoa in a fine mesh strainer under cold, running water for 2-3 minutes. This will remove the bitter-tasting compound saponin which coats the seeds' exterior.
Toast the pine nuts by placing them on a sheet pan in a 350 degree oven for about 7-9 minutes or until golden and fragrant. Remove and set aside.
In a large skillet, melt the butter over medium heat. Add the quinoa and toast briefly, about 1 minute. Add the cooking liquid and salt to taste, and bring to a boil. Reduce to a simmer and allow the quinoa to cook for 15-20 minutes, until nearly all the liquid has been absorbed. The quinoa should be al dente and not so dry that it sticks to the pan. Add the lemon juice and cook for an additional minute. Off the heat, stir in the pine nuts, cheese, and basil. Garnish with additional basil leaves, if desired, to serve.