Salad Basics
Posted on March 18, 2013 by Becka in How To.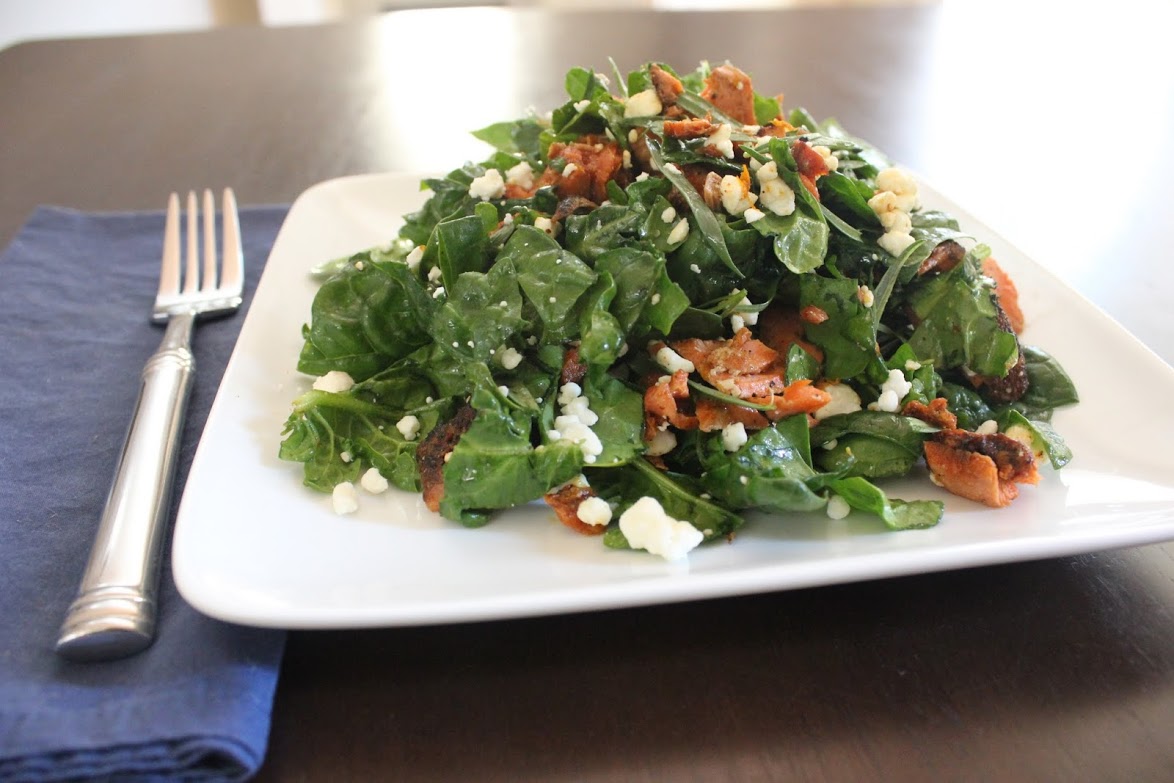 It's that time of year in Texas where the weather warms up and we start craving salads more. Anyone else? Well, at least I do! Salads are simple, but people can get overwhelmed when making them at home. Which lettuce do I choose, what toppings can I use, you want me to make my own dressing? Well, it's not as complicated as it sounds. To build a great salad, you just need to have a balance of different flavors and textures. Below are a few ideas to get you started.
Greens
If you're like me, you grew up thinking iceberg lettuce was the only option for a salad. Nowadays, we've got many other options. If you're not sure what half of them are, swing by the farmers' market and ask for some samples or purchase a few different greens at your grocery store and try them at home. There are sweeter options like kale and spinach, peppery leaves like arugula, spicy versions like mustard and turnip greens, and bitter ones such as chicory and radicchio (which is actually purple!). All are beautiful in salads, and depending on your preferences, you can use just one or mix and match a bunch together. Eat what you like!
Herbs
Most people don't think of adding herbs to salads, but they blend in nicely with the greens and give your salad a really fresh and bright flavor. Obviously the flavor will depend on the herb you choose, but parsley, mint, and tarragon are a few of my favorites.
Protein
There are so many options to add protein to your salad; you don't have to stick with just one. Of course, meat and fish come to mind as the usual suspects, but beans, cheese, and nuts are great mix-ins too, especially for vegetarians. I love chickpeas or lentils in my salads, and I'll never turn down a good goat cheese or parmesan. More on nuts later.
Veggies
You don't always need extra veggies in your salad but they often add excellent flavor and texture, especially when raw or slightly blanched. Plus adding them to a salad is a great way to ensure you're getting more vitamins and minerals in your diet. Some of my favorites include corn, carrots, broccolini, and green beans.
Fruits
You can always add a little sweetness to your salad with a dressing, but fruit is a great way to accomplish that as well. Strawberries, blueberries, and apples are a few fresh fruits that I go to often; dried fruits like apricots, cherries, and raisins are delicious too.
Nuts & Seeds
A salad without a little crunch is no salad at all! You may get some crunch from raw veggies or fruit, but I always love having some kind of nut in my salad. Pine nuts, pistachios, and hazelnuts are all great, just to name a few. Or get some pumpkin or sunflower seeds if you're allergic to nuts.
Dressings
Making your own salad dressing is so easy – I promise! I generally prefer vinaigrettes as a lighter option to mayonnaise or egg-based dressings. You can go so many directions with a vinaigrette, but the basic ratio is simple: 1 part acid to 2 parts oil. (I like my dressings a little on the tangy side, but you could always add up to 3 parts oil if you prefer a less acidic flavor.) Just a few different acids come in the form of lemon juice, orange juice, balsamic vinegar, cider vinegar, and sherry vinegar. When it comes to the oil, be sure you're using a high quality extra virgin olive oil that tastes great. Now, for the secret ingredient… mustard! Mustard is an emulsifier so it will force the oil and acid together, rather than separating into two distinct layers. Just as they would separate in a container, they will also separate on your greens, the acid dripping off, leaving oil-soaked and soggy leaves. You could go with dijon, whole grain, or spicy mustard. Add a little salt and pepper until it's to your liking and you've got a basic vinaigrette!