Spicy Cucumber Avocado Soup
Posted on September 18, 2013 by Becka in Recipes.

For many, the last week of summer means saying goodbye to tank tops and garden-grown tomatoes and hello to long sleeves and pumpkin-flavored everything. Not so, here in Dallas, where temps in the 90s extend summer and make us really appreciate fall weather when it finally arrives.

By now, your summer salad craving has probably grown old, but it's still too warm to really enjoy fall favorites like roasted pumpkin or sweet potato hash. Change things up with a simple chilled soup that's filling but light, and refreshing for these hot days.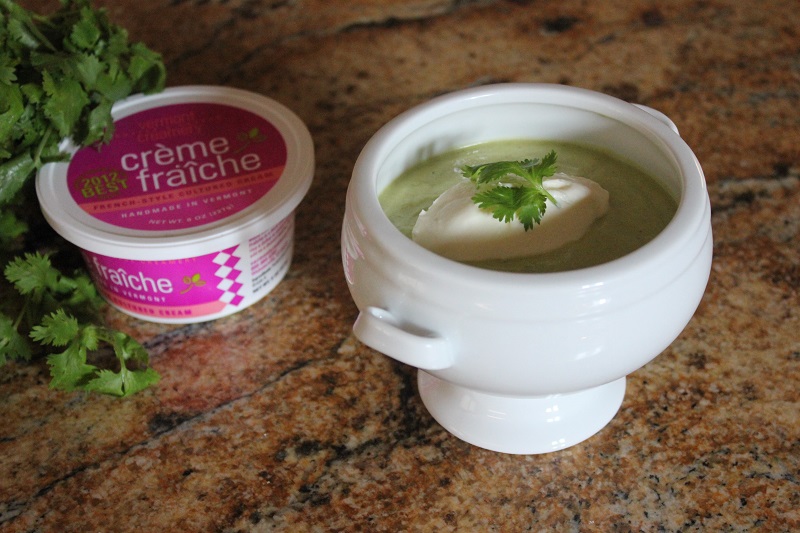 Spicy Cucumber Avocado Soup

Makes about 4 cups
1/2 English cucumber, seeds removed, cut into chunks
1 avocado, peeled, pitted, cut into chunks
1/2 jalapeño, seeds removed (unless you like it extra spicy!)
1 scallion
4 cilantro sprigs, plus extra for garnish
1/4 cup plain yogurt
1/4 cup crème fraîche, plus extra for garnish
1 teaspoon sugar
1 Tablespoon kosher salt
1/2 teaspoon black pepper
Pinch of cayenne pepper
Cold water, to adjust consistency
Combine all ingredients in a blender; adjust the seasoning and consistency to taste. Pour into bowls and garnish with a small dollop of crème fraîche and a cilantro leaf.
So before you go out with the tanks and in with the sleeves, add this spicy chilled soup to your repertoire these final days of summer (okay, and the 90-degree days of fall).