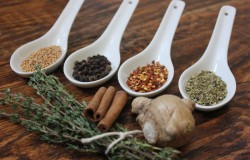 Posted on April 30, 2013 by Becka in Food Musings.

Way back when we were living in caves, humans learned that fat, salt, and sugar were precious commodities that our bodies needed to stay alive. Fat helped us survive the long, cold winters; salt was necessary to replace the electrolytes we sweated out in pursuit of prey; and sugar was necessary to help our brains […]

Comments Off

on Evolving Yourself Beyond Salt, Sugar, and Fat

Continue Reading...