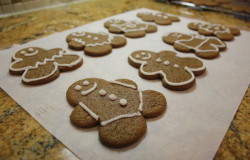 Posted on December 4, 2013 by Becka in Food Musings.

Despite my fear that I'd be unable to resist freshly baked cookies, I couldn't let National Cookie Day go by without baking up a batch. I've been wanting to try the infamous chocolate chip cookie recipe from master pastry chef Jacques Torres, but upon realization that the dough would need to chill in the fridge […]

1 Comment. Continue Reading...