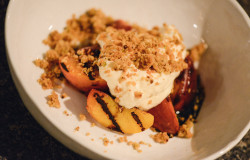 Posted on July 1, 2015 by Becka in Dinner Parties, Seasonal.

With so much of our food grown miles away and imported year-round it's no surprise that we can buy peaches in December and brussels sprouts in June. But why would you want to? A December peach is usually pale and crunchy. A June peach from a nearby farm, on the other hand… that's a sweet […]

Comments Off

on 'Tis the Season to Go Local

Continue Reading...