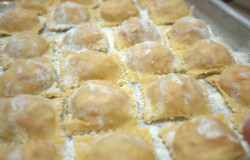 Posted on February 21, 2014 by Becka in Recipes.

The other day, I got some great news from a dear friend: she's pregnant! What does that have to do with lobster ravioli? Well, she lives in Maine, the thought of which makes me long for a creamy lobster roll enjoyed along coastal Maine in the summer sun. Warmer though the temps may be here […]

Comments Off

on Homemade Lobster Ravioli

Continue Reading...