Spanish Sofrito-Poached Cod
Posted on April 26, 2013 by Becka in Recipes.

I visited Spain last summer for a week filled with culture, beaches, wine, food, and general relaxation. Sounds pretty fabulous? It was. I was daydreaming about that trip just the other day, and it prompted me to create a Spanish-inspired dinner based on a sofrito.

Ask five different people what a sofrito is and you'll probably get six different answers. It depends on what country they're referring to and their personal ingredient preferences. All sofritos start with a base of aromatics such as onions, garlic, celery, and carrots sauteed in fat, whether that be butter (French), oil (Italian), or lard (Caribbean). Variations could contain leeks, parsnips, shallots, herbs, and even mushrooms or bell peppers. Start playing around with different combinations and you'll see pretty quickly why definitions can vary.

In Spain, a sofrito traditionally consists of onions, garlic, peppers and tomatoes cooked in olive oil. In this version, I substituted leeks for onions and used a Spanish hot paprika in place of fresh peppers. I also added some Mantequilla olives for their buttery salty flavor and topped the fish with some chopped Marcona almonds to add a bit of crunch.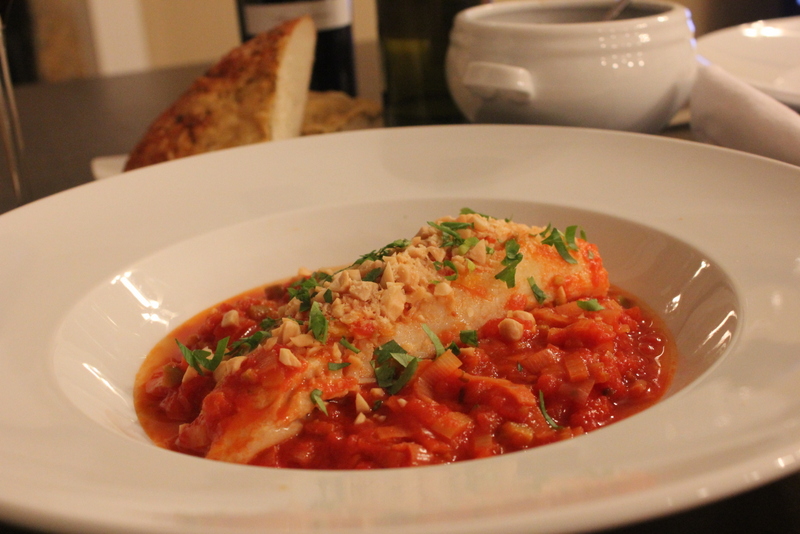 Spanish Sofrito-Poached Cod
Serves 2
1 leek, white and light green parts only, cleaned and sliced thin
2 small garlic cloves, minced
28 oz can San Marzano tomatoes
1/2 tsp anchovy paste
1/2 tsp Spanish hot paprika
1/3 cup Mantequilla olives, pits removed, minced
2 cod fillets, about 5 oz each
1/4 cup Marcona almonds, roughly chopped
1 Tbsp parsley, chopped
Canola oil
Preheat the oven to 350 degrees.
Place the tomatoes and their juice in a food processor and pulse until the tomatoes have broken down into small bits but aren't fully pureed.
Heat a large ovenproof skillet over medium-high heat and add enough canola oil to lightly coat the bottom. Allow the oil to heat up until shimmering and then add the leeks. Cook for about 5 minutes, until softened, stirring occasionally. Reduce the heat to medium and add the garlic. Cook for an additional minute, until fragrant. Add the tomatoes, paprika and anchovy paste and allow to cook until some of the liquid has evaporated, about 5-7 minutes.
Stir in the olives and add the cod fillets, nestling them down into the sauce so it comes partway up the sides of the fish. Place the entire pan into the oven and allow the fish to cook, about 4 minutes. Delicately flip the fish and allow it to cook in the oven for an additional 3-4 minutes, or until a medium doneness is achieved.
To plate, remove the fish from the pan and reserve. Spoon some of the sofrito into a shallow bowl and then top with the cod. Sprinkle 1/2 of the Marcona almonds on top of each fillet and garnish with parsley.
Enjoy your Spanish meal with some Spanish wine such as a crianza from Rioja. Even if it's not every week you can vacation to Spain, at least you can enjoy a little of it right here in Dallas.