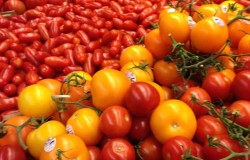 Posted on June 12, 2014 by Becka in About, Food Musings, How To.

However common it may be to dislike tomatoes, I'm not in that camp. Maybe tomato haters haven't really had the best summer has to offer? I'll agree; a barely pink tomato that has traveled miles in the winter might not make it into my shopping cart. But give me a juicy, ripe summer tomato, and […]

Comments Off

on You Say Toe-meh-toe, I Say Toe-mmmm-toe

Continue Reading...